Addiction Management is, as the name suggests, about managing your addiction to nicotine.
Most people who smoke would like to stop, but there is another issue, one which no-one ever talks to you about. This doesn't involve not smoking, it involves CONTROLLING your smoking. It's called smoking reduction, and we use AM to achieve it.
Why might you prefer the option of becoming a light smoker, to stopping altogether?
A. Because you have tried, perhaps several times, and you no longer believe you can stop.
B. But you still worry about your smoking, so doing NOTHING is not a good option.
C. Because reducing your smoking is an excellent way to gain the control you need to stop completely when you are ready.
Before we go any further, let's dispose of a myth. The myth is that either you smoke or you don't, that if you cut down how many you smoke it will just go up again. How do we know this is wrong? Because all over the world some people smoke thirty a day, some smoke twenty, some smoke ten, and some just smoke five. The amount people smoke is proven to be variable. If smoking meant you would just smoke more, this could not possibly be true, could it?
Therefore the amount you smoke can be altered. If you now smoke twenty, there is absolutely nothing to stop you becoming the same as all those people who smoke ten, or five.
And the key to doing all of this is Addiction Management. We have been providing AM for 27 years, and we have never seen anyone who couldn't control their smoking with it. What we're NOT saying is that we're going to talk you out of smoking heavily. What we ARE saying is that we're going to give you something that is going to make it easy, so you don't actually have to exercise any self control or use any will power. In other words, we're going to do it for you.
At £265, it's not our cheapest therapy option, but we have set a fee that works for us and we hope works for you. If, for example, you currently smoke 20 a day, and with Addiction Management you instantly reduce that to 5, at £10 a pack you are going to be saving £7.50 a day. It will take you five weeks to cover the treatment cost. After that you will be saving £2,737 a year.
But it isn't all about the money is it? You probably worry more about your health. Well, smoking 75% less is instantly going to reduce the damage of smoking by 75%. All without actually having to go without cigarettes. What's not to like?
Addiction Management is at present the only medical therapy for addiction to nicotine, and is in fact exactly the same as the treatment for alcohol addiction provided by our colleagues in Addiction Management Centres, which like us is part of The Doctor Richard Mackarness Foundation.
To enquire about, or book for, Addiction Management, click here:
.
HOW IT WORKS
Addiction Management is a technique we use to give you immediate and complete control over your need for nicotine. If you don't have a craving, it is actually quite easy then to not smoke. Please note it does NOT involve taking nicotine. We do not believe taking nicotine is a way to control the addiction to it.
Nicotine contains two important elements that control the addiction you have to it. One is called the Positive Factor, and this element satisfies the craving. The other is called the Negative Factor, and this does the opposite – it creates the craving for the next cigarette.
What we are now able to do is to isolate the Positive Factor, and give it to you as mouthdrops. Taking a single drop of Positive Factor satisfies the craving, and what that does is switch off the need to smoke. So far so good, but is the Positive Factor just like smoking?
Absolutely not. Because the Negative Factor has been removed, the drop can ONLY satisfy the craving, it CANNOT create more craving. So instead of lighting a cigarette you take a drop and it feels like you've smoked – but you haven't.
The factor that will satisfy the craving varies from one smoker to another, depending on certain genetically-inherited factors in your immune system. For this reason, Tobacco Factors have to be made up for each client, according to the results of a test the nurse will carry out. You will receive your supply of Tobacco Factor at the Addiction Management Centre, and the nurse will show you how and when to take it. That is the point at which your need to smoke comes under your control.
FROM REALLY HEAVY SMOKING TO SOCIAL SMOKING
It doesn't matter how many cigarettes you smoke at the moment. Whether you're on 20, 30 or 40 – or more – anyone can easily get down to five a day on Addiction Management. And bear in mind this is an average. We find clients sometimes smoke as many as ten a day, but on other days they smoke one or two, or none at all. The point is, YOU decide whether you smoke, because you can.
WHERE TO GET ADDICTION MANAGEMENT
At present, this is available only at our Brighton clinic. In January 2018 we plan to open clinics in Oxford and Birmingham. These will be followed during the year by clinics in Manchester, Glasgow and Edinburgh.
NSSC AFTERCARE
We've been doing this for 27 years, and our experience with more than 11,000 clients is that just taking the Tobacco Factor, and thus having no craving, is all that most people need to have complete control over their smoking. What so many clients tell us is that this freedom from the craving is something they have never really experienced before.
Addiction Management is actually pretty straightforward, but if you need any help at all, if you just want to call for moral support, we will be here for you. For ten years!
SOME STATISTICS
FACTOR EFFICACY STUDY, 1994
Level of craving after a full day on Tobacco Factor instead of tobacco, in a research clinic:
Little or none: 94.6%     Some: 5.4%     A lot: 0%     Too much: 0%     No of patients: 107
COMPARATIVE CESSATION, 1997-8
Smokers joining NHA365 (the research code for Addiction Management) with a history of failure. Previously failed with:
Nicotine replacement: 73%     Hypnotherapy:19%     Acupuncture: 7%   Other: 8%
SAFETY STATEMENT
The Tobacco Factor complies with both UK and European Medicines for Human Use legislation. It has been tested by the British government's public health laboratory, and is classified as 'inherently safe'.
The Tobacco Factor contains an element extracted from whole tobacco, and no pharmaceutical product. It is administered on a Named-Patient Basis by Nurse Practitioners under the above legislation.
Under the legislation, clients may request from National Stop Smoking Centres the details of their individual Tobacco Factor in order to dispense it for their own use.
HOW TO BOOK
Just click on the button below. We will call you to check that we are prepared to offer Addiction Management to you. Then we can talk about which is your nearest Centre and when we can see you.
SMOKING CESSATION
You're coming for Addiction Management because you want to seriously control your smoking, without having to stop. But you and we both know you might well want to stop completely once you feel the control AM gives you. If that happens, at any time during the ten years of your programme, just call the AfterCare team and we will explain what you can do to take this to the next stage. There's no extra charge!
DO YOU NEED HELP WITH ALCOHOL TOO?
Not a few clients for smoking cessation have an alcohol issue as well, and of course the two addictions keep each other going.
While we're giving you Addiction Management for tobacco, we can provide it also for whatever you are drinking too much of. It is likely that you won't want to stop drinking completely, and this of course is where Management is the key word.
We will need to know what it is you're drinking when we book you in, so call us to discuss this, on 01200 40 50 22. Meanwhile, you can read all about Addiction Management for alcohol by clicking this button:
.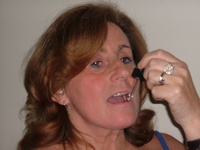 HOW TO USE ADDICTION MANAGEMENT
Your Tobacco Factor is going to give you instant control over when you smoke, and how many you smoke. In a situation where you can't, like a long meeting, or a flight, take your Factor regularly, so you're completely comfortable. With your children or grandchildren around, take it so you don't smoke in front of them. If you want to detox with a smoke-free day, take it all day long and feel no urge to smoke.
But if you DO want to smoke – say out for a boozy evening with friends, then feel free to do so without any guilt. Because now you control smoking, it doesn't control you.
Should you set yourself a smoking reduction target? Maybe, maybe not. You are going to find it so easy not to smoke that it just doesn't matter.
WHAT YOU GET, AND WHAT IT COSTS
The fee for the treatment is £265. This includes your visit to the clinic where we will test you for your personal Tobacco Factor, and this will take an hour or so. At the clinic, we will make up your Factor for you to start on straight away, and you'll get a 10ml dropper bottle, plus two 40ml refill bottles. We cannot predict how much you will use, but we find this supply lasts most clients long enough that they don't need any more, because their smoking habit has changed permanently. If you do need more, don't worry, because we will keep your prescription for ten years. During this time, if you want to order a further supply, there is a fee of just £25, and we'll post it out to you within one working day.
We can see two smokers together. If you want to share an appointment with your partner, or a relative or friend, the fee for each of you is reduced to £185.
During the entire ten years you will have unlimited access to our telephone AfterCare service.
FROM THE PRESS
If I started to get that feeling, I took a drop and it went away. I was surprised how painless it all was. Bristol Evening Post
This is the most successful method I have tried. Not one whiff of nicotine has passed my lips. My 40-a-day husband used the same method and is also a smoke-free zone. The London Magazine
A 35-40-a-day smoker, I walked out of my three-hour session expecting to be hit by the articulated truck of physical craving. It never happened. Evening Standard
Forget nicotine substitutes. The new way to beat your cravings is with mouthdrops. Daily Mail
I was never tempted to smoke, not even when I was nervous. I recommend it to all my friends now. Today
FROM OUR CLIENTS
"I've no desire or craving to smoke and unreservedly recommend your method."
Sonia, Harrow
"There have been few periods when I have felt like having a cigarette. Confident of carrying on like this."
Robert, Oldham
"I've not been tempted, I'm so pleased I've given up."
Julie, Brighton
"I found it easier than any other methods I have tried. I feel positive I shall never smoke again."
Sheila, Southampton
"I don't really know how you did it, but thank you."
Marie, Edinburgh
"I think about smoking, but as something I used to do."
Dominic, Poole
"Excellent in every aspect – the factor, the clinic session and the support."
David, Barnsley
"In my view, this system is the best."
Michael, Staplefield